Here is the winning entry to the "Spirit of Whangarei" website photo competition.  Congratulations to Richard Bland who submitted the winning photo.  We had seven entries and will be using all that we can to refresh our banner.  Thank you to all who took part.

Check out page 10 of this week's Whangarei Leader featuring success of two of our players.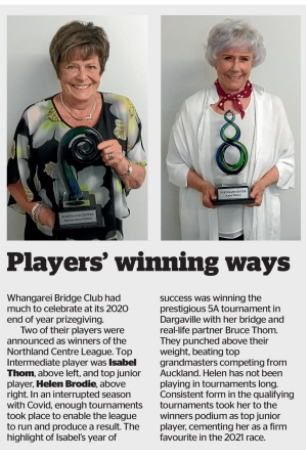 A full turn out at the Craigs Investment Kerikeri tournaments over the weekend saw success for many of our Whangarei players.  The Swiss pairs event was won by Glennis Bilton and Len Dent.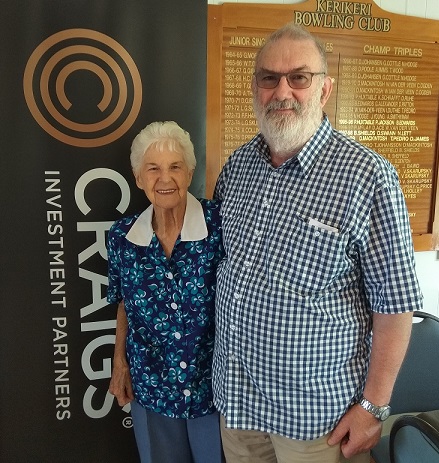 Welcome to the 2021 bridge season.  Holiday bridge begins on FRIDAY 8 January at 10.30 am.  Holiday bridge will take place MONDAYS and FRIDAYS throughout January.
The Committee treated us to a wonderful Christmas Party.  With around 50 people joining in the BBQ we had a feast which Lee and her daughter and sister poured over to ensure everyone had a great time.  The theme was Country & Western.  Some truly outstanding costumes, not least by Hilary as Dolly Parton, but winning the plaudits was Judith in her Op Shop special.  Michael Coutanche/Glennis Bilton and Vanessa McGoldrick and Patsy Walters took the honours in the bridge.  Photos from the party can be viewed here.
The Northland Centre recently announced the 2020 individual trophy winners and two of our own, Helen Brodie and Isobel Thom, won the Junior and Intermediate Championships respectively. These awards are based on cumulative points awarded for placing in the top ten of Open tournaments held in the Northland region throughout the year - no easy feat! Congratulations to Helen and Isobel for a job well done!
Laurie Butland was awarded his Certificate of Proficiency from New Zealand Bridge.  Reaching 500 C points took him over the threshhold.  The Certificate of Proficiency is the first award a player receives from NZB and marks their journey from outright novice to a level of proficiency recognised by the national body.  Click here to read more about Gradings, Rankings and Masterpoints. Congratulations Laurie on your perseverance to reach this well-deserved milestone.
Whangarei have won back the Wyllie Salver in the annual four-way Northland competition.  Holders Paihia gave Whangarei their closest match which Whangarei won by a whisker, whilst wins against Kerikeri and Dargaville sealed the deal.  Proudly holding the prestigious trophy are the winning Whangarei team, L to R: Neil Ruddell, Tania Brown, Jane Stearns, John McIntosh.  
Contact Info
Email: whangarei.bridge@xtra.co.nz
Tel: Janice  09 435 3344
Mobile: 0273187116